Past Projects – The Brownstones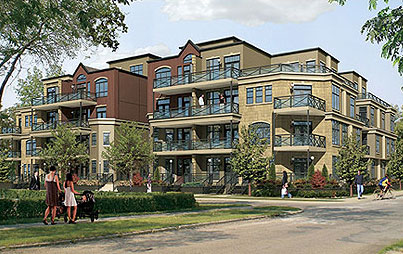 Brownstones I – An exciting new condo development with great proximity to the University of Alberta. The newest member of our distinguished family is located at 108 Street and 71 Avenue, just steps from the Garneau and Whyte Ave district. More good news: construction has started and presale pricing is in effect. Better act now because this development is bound to sell out before you know it! After all, another similar development of ours, on the other side of the river — Glenora Gates — was voted Best Low Rise Development in Edmonton in 2004, and the Gates on 117 Street sold out quickly.
This latest project will have the same quality, the same design, with a more Old World design. So get going if you're interested in a fine home in an excellent location… which means a spacious unit in a four-storey building that centers around a central courtyard. Glass elevators and pedways link all parts of the development, adding to the unique Europe look and feel. Open great room plans, nine-foot ceilings, huge floor-to-ceiling windows, lots of charming brick and stone — all trademarks of our design and style — add to the atmosphere.
Your selection of finishing package and superior soundproofing are part of The Brownstones I as well. Low condo fees are always a concern, which is why we skip the expensive amenities that are seldom used and instead put the money saved into state of the art soundproofing. Plus you get an upgraded appliance package and underground heated parking as standard items. And your surroundings are secure, with 24-hour video monitoring in the parkade.
Each unit is self-contained, with a separate furnace, hot water tank, in-suite laundry and telephone and cable access in almost every room. Quality, value and innovative design; that's the focus at The Brownstones I.
The location couldn't be better. Built in a mature neighbourhood, The Brownstones I is a unique project, one that's surrounded by character homes and all the amenities of an established community. The University of Alberta and the shopping and entertainment district, Whyte Avenue, are both within walking distance. So is the river valley. And the downtown core is just a short LRT ride away. All in all, this is a marvelous area where you will feel at home in no time at all. So don't delay. Get in on this wonderful development while you can!